Cardio Praise with Karen Joy Allen
DVD Release:
September 1, 2009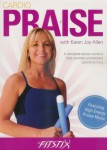 Synopsis
The JoyFitstix® Cardio Praise Workout is an exciting Christian DVD developed by fitness trainer Karen Joy Allen. Using exercises that are current, fresh, and fun, this multi-level, mixed-impact workout introduces the toning and shaping power of the JoyFitstix, a powerful weight-loss aid that has helped numerous health club members burn 200-300 more calories per workout.
Featuring eight workout combinations and an effective, one-of-a-kind abdominal workout, this DVD from Bridgestone Multimedia Group effectively combines strength training and cardio with fun dance routines. Complete with Cardio Gospel Praise music and applicable Scriptures, this time-efficient program burns fat, while you tone and sculpt lean, beautiful muscles in your legs, arms, shoulders, and core without all the weights!
Dove Review
Here's a cardio work-out that will give you energy and encourage your spiritual inner-self. Along with the instructional exercises and toning, you will enjoy the music and scriptures that will inspire you. Everyone will have fun while they work out to this lovely DVD for a healthier you, inside and out. We award the Dove "Family Approved" Seal for all ages to this energetic and spiritual DVD.