A Fun Workout for Kids with Karen Joy Allen
DVD Release:
September 1, 2009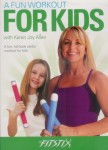 Synopsis
Give your kids a full body workout with A Fun Workout for Kids from Bridgestone Multimedia Group! Developed by fitness trainer Karen Joy Allen, this exciting workout helps kids keep rhythm, time, and beat to the music with the JoyFitstix®. Weighing under a pound, the JoyFitstix allow for quick and safe movements to keep rhythm with the musical beat and create toned muscles.
Filled with kid-friendly music and exciting routines, this cardio workout presents careful instruction that leads kids through enjoyable dance routines. This Christian DVD also features other kids performing the workout, making it easy to follow each move. Plus, this workout includes a great abs workout that produces clear results, while kids have fun shaking things up!
Dove Review
In this day and age it is important to get children up and moving. Many are spending too much time being inactive. So here is a great way to get them moving in a healthy and fun way. These work-outs are geared toward children and will guide them into action to a better and healthier body. Have fun as a family and work out together. We award the Dove "Family-Approved" for all ages to this rollicking DVD.
Info
Company:
Bridgestone Multimedia Group
Industry Rating:
Not Rated