Birth of Freedom. The
DVD Release:
October 1, 2009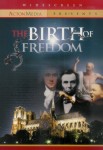 Synopsis
The American founders said that all men are created equal and are endowed with certain unalienable rights. That among these are life, liberty, and the pursuit of happiness. They called this a self evident truth. 87 years later, Abraham Lincoln reaffirmed this idea on the Civil War battlefield of Gettysburg. And in 1963 these same words echoed from the steps of the Lincoln Memorial as Martin Luther King, Jr. urged America to fulfill the promise of its founding. But humans are separated by enormous differences in talent and circumstance. Why would anyone believe that all men are created equal? That all should be free? That all deserve a voice in choosing their leaders? Why would any nation consider this a self-evident truth? For the millions around the world who have never tasted liberty the question cries for an answer.
Dove Review
The fight for freedom is what "The Birth of Freedom" is all about. It begins with the violence the blacks suffered and how that the decree that all men are created equal has been challenged from the beginning. As Washington, Lincoln and the Civil War is focused on, we learn about the sweeping but gradual changes regarding freedom from slavery including scenes of Dr. Martin Luther King Jr. and the Civil Rights movement of the sixties. William Wilberforce and his efforts to free English slaves is also featured.
This is an inspirational and well made DVD and we highly recommend it and are happy to award it our Dove "Family-Approved" Seal. Let freedom ring!
Info
Producer:
James Fitzgerald, Jr.
Industry Rating:
Not Rated
Reviewer:
Edwin L. Carpenter