Capitalism: A Love Story
Theatrical Release:
October 2, 2009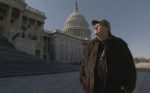 Synopsis
"Capitalism: A Love Story" will explore the root causes of the global economic meltdown and take a comical look at the corporate and political shenanigans that culminated in what Moore described as "the biggest robbery in the history of this country" – the massive transfer of U.S. taxpayer money to private financial institutions.
But as the political winds shifted in the months before the election — and gusted after it – Moore subtly began reorienting his movie. Instead of foreign policy, the film's focus now is more on the global financial crisis and the U.S. economy.
"Capitalism: A Love Story" will contain an end-of-the-empire tone, say those familiar with the project, and Moore no doubt hopes that this will give it a more general feel that will untether it from a specific political moment.
Dove Review
Michael Moore, as usual, is bound to anger some viewers with his latest documentary. He is, as always, very opinionated as to why this country has undergone great economic difficulties in the last few years. He blames everyone from Wall Street to the banks, Countrywide Financial, and even goes back to the early 80s as he remembers "Reaganomics". He says capitalism is against democracy and a few Catholic priests and a bishop believe that capitalism is against Christianity, which some viewers will and others won't agree with.
As usual Moore confronts several people with some hard questions, people he believes need to respond to the public. Some choose not to be interviewed. Moore is, if nothing else, entertaining. Some might choose to say his bullhorn approach is a bit dramatic while others no doubt applaud him for tackling some difficult issues in this country.
At any rate, there is very strong language in the film which prevents us from awarding our Dove "Family-Approved" Seal to the picture.
Info
Reviewer:
Edwin L. Carpenter