Safe Harbor: Edited
Theatrical Release:
May 30, 2009
DVD Release:
January 19, 2010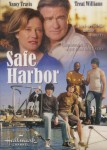 Synopsis
The Hallmark Channel Original movie tells the remarkable true story of couple Doug and Robbie Smith, who founded the Safe Harbor Home for Boys in Jacksonville, Florida. On the eve of their retirement cruise to luxury, self-made millionaire Doug Smith and psychologist wife Robbie get a call from Doug's past asking him to "pay it forward" by helping out trouble teens for a brief stay on their boat, who took mercy on a young Doug when he was in trouble with police, asks the couple to put off their trip to help spare three teens from serving hard time with hardened criminals. Through hard work, discipline and the calm and confidence gained by challenging life at sea under Doug and Robbie's guidance, the boys turn their lives around. In return, the couple finds a renewed sense of purpose and calling for their twilight years.
Dove Review
Based on a true story that relates how one couple become foster parents and role models for three young boys that are headed for the wrong side of the law if they don't get some guidance. Doug and Robbie learn of the complications and red tape that foster parents go through. They also help the boys find respect and discipline with in themselves and for others in their lives so that they may have a better future. Being a mentor for young people is a very important role. A truly inspirational movie that shows how one couple found a new purpose in their life by helping troubled boys stay out of jail.
This version has been edited and is awarded with the Dove "Family-Edited" Seal.
Content Description
Violence:
Discussion regarding how the boys got into trouble, Young boy is angry and destroys a bathroom, Fire on boat, Boy hits another
Violence:
Discussion regarding how the boys got into trouble, Young boy is angry and destroys a bathroom, Fire on boat, Boy hits another