This Is It
Theatrical Release:
October 28, 2009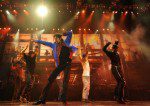 Synopsis
'Michael Jackson's This Is It' will offer Jackson fans and music lovers worldwide a rare, behind-the-scenes look at the performer as he developed, created and rehearsed for his sold-out concerts that would have taken place beginning this summer in London's O2 Arena. Chronicling the months from April through June, 2009, the film is produced with the full support of the Estate of Michael Jackson and drawn from more than one hundred hours of behind-the-scenes footage, featuring Jackson rehearsing a number of his songs for the show. Audiences will be given a privileged and private look at Jackson up close and personal. In raw and candid detail, 'Michael Jackson's This Is It' captures the singer, dancer, filmmaker, architect, creative genius and great artist at work as he creates and perfects his final show. Kenny Ortega, who was both Michael Jackson's creative partner and the director of the stage show is also directing the film, which is being produced by Randy Phillips, Kenny Ortega and Paul Gongaware.
Dove Review
The singing and dancing talent of Michael Jackson is obvious in this movie. He seemed to have slowed down very little, if any, in preparing for what would have been a concert tour in England. On more than one occasion the people I screened this film with applauded, as if it was a live concert. The people who rehearsed with him and who planned to share the stage with him obviously loved him and admired him and perhaps in a few cases idolized him. When some of them learn they have been selected for the tour, they break down and cry.
In this documentary the viewer gets to know the man a bit better as we see glimpses of him sharing thoughts or comments and guiding the rehearsals. He offers a frequent "God bless you" to members of his entourage as he makes suggestions or accepts their compliments. He does give orders but always in a way as to bring out the best in the musician or the dancers. In one scene when a mistake or two is made he says, "That's why this is a rehearsal." In another scene he smiles as the light hits his face at the conclusion of a number and it is obvious he is pleased with how it went. He comes across as a kind perfectionist.
This documentary covers the music rehearsals, the special effects work (which included some new visuals for the "Thriller" number), the producer begging Michael to be careful when he is lifted up on a cherry picker during rehearsal, and Michael's generosity in allowing other performers, such as a female guitarist, to shine. In a planned video, Michael shares the screen with Humphrey Bogart and dresses as a gangster. The documentary also includes a few older clips of Michael performing with his brothers in the Jackson Five. It is clear that a lot of hard work went into the preparations and except for a tweak here and there and a few interruptions, it appears the touring team was near being ready when Michael's life was cut short. However, until the end freeze frame there is no focus on Michael's death, only on the rehearsals and the music and the clothes. For a few of the numbers he is shown during different rehearsals, wearing different clothes.
A few of the numbers showcase the concern Michael had for the planet and he tells the group at one point to love each other and to take care of the planet, which happens to be pretty good advice. Ultimately this movie is about Michael Jackson's talent, which is what it should be about. The film concludes with, appropriately enough, the film's title song "This Is It". It is a shame that due to the sexual innuendos and suggestive choreography, we are unable to award our Dove "Family-Approved" Seal to this film. The film is energetic and displays the talents of the late man many believed to be a musical genius. However, the sexual content is a bit too strong for us to be able to recommend the film for family viewing.
Info
Company:
Sony Pictures Home Entertainment
Starring:
Michael Jackson as himself
Reviewer:
Edwin L. Carpenter