China Rose
Theatrical Release:
October 8, 1983
DVD Release:
February 8, 2005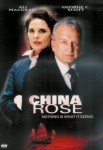 Synopsis
George C. Scott stars in this drama-mystery as a man who has lost touch with his son Daniel (Michael Biehn). Fearing that Daniel has gotten swept yup in the Cultural Revolution in communist China, the elder Allen embarks upon a search for his son. The U.S. Embassy assigns Rose (Ali MacGraw), a woman studying in China, to serve as Allen's interpreter and guide. Together the pair track down clues of Daniel's whereabouts, and along the way surprising things begin to occur: some dangerous, some welcome. As Rose helps find Allen's rebellious son, she begins to realize that her feelings for him exceed the boundaries of friendship. But romance takes a back seat to danger and intrigue as the plot thickens and Allen and Rose begin to unravel the mystery of Allen's missing son…finally the dark heart of a shocking secret.
Dove Review
This film was a near-miss for us. If not for the implied sex between an unmarried couple, this film would have received our Dove "Family-Approved" Seal. As it is, it wandered outside our guidelines. George C. Scott gives a strong performance as a man who travels to China in hopes of finding his son Daniel who has been missing for sixteen years. Scott plays Bert Allen, and his wife recently died and it is a difficult time for this lonely character. In Canton, the People's Republic of China, he meets a woman named Rose (Ali MacGraw) who prompts him to not give up when he doesn't learn anything right away.
We learn that Allen is a capitalist who didn't get along too well with Daniel, who was a teacher. Rose and Bert end up on a wild goose chase with even the hospital not cooperating. The question soon becomes: is it possible that Daniel, proclaimed dead by some, is actually still alive and in some deep trouble?
The film moves along at a steady pace and soon Rose and Bert find they are attracted to each other. However, with the aforementioned implied sex scene, we cannot award our Dove Seal to this movie. A character is also killed in the film and a character's grief is plainly seen. The ending also would disappoint some viewers. It's a shame George C. Scott's performance was so wonderful when we cannot award our Dove Seal for family viewing.
Content Description
Sex:
Woman propositions a man to make love to her and there is implied sex between the unmarried couple; passionate kissing; a single man and woman sleep in separate beds in the same room and talk.
Drugs:
The mention of a cocktail party; smoking and drinking in a few scenes; cigarette seen burning in ash tray; drug smuggling and it's mentioned a man was addicted to morphine.
Info
Company:
Echo Bridge Home Entertainment
Reviewer:
Edwin L. Carpenter