Penny and Rio: The Locked Doghouse Mystery (Illustrated)
Book Release:
November 1, 2009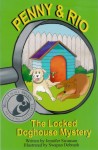 Synopsis
The crime-fighting dog duo of Penny and Rio are on the case again! Squeaky the mouse desperately needs their help to recover his precious belongings from a locked doghouse next door. But will Hobbs, the Great Dane, who lives in the yard object? Though an inventive pair, the resourceful pair strive to solve the mystery. Can they recover Squeaky's belongings before the doghouse is destroyed? Follow along as the dynamic detectives, Penny and Rio, discover that they can do anything, as long as they work together.
Dove Review
The cute and lovable dog duo is back with another wonderful tale about their latest mystery. Every reader will enjoy discovering how Penny and Rio along with their new friends solve this new adventure. This is an easy to read and colorful illustrated book that is great for your young readers and pet lovers alike.There is truly a story for everyone. We award the Dove "Family-Approved" Seal for all ages to this charming book.
Info
Company:
Mirror Publishing
Industry Rating:
Juvenile
Starring:
Illustrated by: Swapan Debnath