Treasure Seekers Inc – The Tigers Eye
Theatrical Release:
February 16, 2010
DVD Release:
February 16, 2010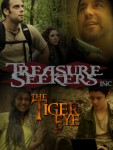 Synopsis
Reuben Finway and the Treasure Seekers take off on a journey to recover the illustrious Tiger Eye, a rare treasure that has been hidden for hundred of years. Legend has it that whomever possesses it will be protected from all harm and will become invincible. The trek is tough, the search is long and full of unforeseen danger. When they discover that the infamous Vance is also after the Tiger Eye it becomes a race against time to get it first.
Dove Review
A group of characters take on a treasure hunt for artifacts for museums. In this episode the group gathers information and looks for the Tiger Eye that supposedly will protect whoever has it. But these hunters know that the greatest protector of all is God and believing in him. Along the way on this adventure they learn some lessons from verses found in the Bible and about themselves.
This show is geared toward kids in the preteen and teenage years; an age group which loves adventure. While the story is about treasure hunting it also has many topics that can be used for discussion, topics such as "What God would want us to do", "Fitting in", and "Working together as a team" plus many others. We award the Dove "Family-Approved" Seal for all ages to this DVD.
Info
Company:
Meatloaf Media.Com
Starring:
Judah Thomas
,
Carey Thomas
,
Benjamin Thomas
,
Abhisha John
,
Joey Miano
,
Guy Touma
,
Ron Thomas
,
Charly Vaichus
,
Martin Niatopski
,
Karen Fogg
,
Bruce Fogg
,
Susan Thomas