Bicycle Dreams: The Race Across America
DVD Release:
January 15, 2010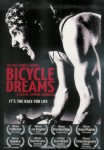 Synopsis
They are seekers, madmen, and angels bent on riding across America on a bicycle in less than ten days. But what begins as the adventure of a lifetime is transformed in an instant when tragedy strikes the race. These voyagers discover what is truly at stake as they pedal on, praying for the deliverance only the finish line can bring. By journey's end some are saved, others are lost, but all learn that the fuel that takes a soul toward its own true destiny is desire.
Dove Review
We have all seen cyclists on television but do we know what these athletes really endure? This documentary takes a look into the thoughts and feelings of a group of cyclists who race across America in a 3000 mile trip. It is an in-depth look at the endurance of many who participate, not just the rider but also the crew that surrounds them.
This group comes from all over the world, from different lifestyles and for many different reasons to participate in this challenge; a challenge that is not only one of endurance but one that is emotional, both physically and mentally. As they race, these participants deal with a variety of issues such as the weather, health, sleep deprivation and loss. This is truly an inspirational film. Unfortunately due to some language in a song's lyrics this film can not be "Family Approved.