Ice Castles
DVD Release:
February 2, 2010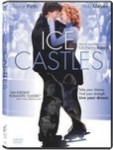 Synopsis
Young, beautiful talented Alexis Winston comes from nowhere to become a figure skating superstar. But her rise to stardom isn't easy. She has to push herself, reinvent herself, and most painfully of all, leave her hometown boyfriend behind. When a tragic fall leaves her blind, she needs someone to believe in her, to love her; someone to convince her she has the strength to skate and dream again.
Dove Review
As a little girl, I watched the figure skaters on TV and it made me think of princesses as they gracefully skated around the rink to the wonderful music. This story tells of the courage Lexi uses to return to the ice after her accident. Alexis Winston had trained and made it to the nationals but then the tragedy hit. But Nick, her boyfriend who she thought had left her, returns to help her find the strength and courage to do what she has always loved to do: skate.
Sometimes in life a person is challenged in a way that they never would have dreamed of happening. They then give up on their goals. It then takes those people around them and love them to get them to see that they can accomplish their goals, only now in may have to be in a different manner. Together Nick and Lexi help each other achieve their dreams.
This is a story of love, commitment and strength along with courage to overcome obstacles that may happen in a person's life that may prevent one from reaching dreams and goals. This movie is awarded our Dove "Family-Approved" Seal for all ages.
Info
Company:
Sony Pictures Home Entertainment