Old Dogs
Theatrical Release:
November 25, 2009
DVD Release:
March 9, 2010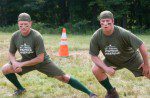 Synopsis
Two best friends—one unlucky-in-love divorcee (Robin Williams) and the other a fun-loving bachelor (John Travolta)—have their lives turned upside down when they're unexpectedly charged with the care of six-year-old twins while on the verge of the biggest business deal of their lives. The not-so kidsavvy bachelors stumble in their efforts to take care of the twins (newcomers Ella Blue Travolta and Conner Rayburn), leading to one debacle after another, and perhaps to a new-found understanding of what's really important in life.
Dove Review
The old dogs still have it. Both Robin Williams and John Travolta are funny in this new Disney film, and they mesh well playing long time friends, Dan and Charlie. They have moved up in the ranks in marketing at their jobs and are near closing a sweet deal with a Japanese firm. Then Dan (Williams) runs into a former flame, Vicki (Kelly Preston), and he learns he has two kids from their former relationship. Dan has no choice but to take them and get to know them as Vicki has an obligation elsewhere which she can't refuse.
They stay at Charlie's (Travolta) place and it takes some adjustment for Charlie to become known as "Uncle Charlie". Along the way, the laughs come frequently at both Dan and Charlie's expense. There are some funny physical comedy moments such as when Charlie has water spilled down his pants and the patrons at the restaurant believe he had an "accident". It is also quite hilarious when they "break" into the zoo (their bumbling ways are played for laughs) in order for Dan to attend his daughter's birthday party, as the zoo closed just before he arrived, and a gorilla takes a liking to one of their employees (Seth Green), who is accompanying Dan and Charlie.
This is a good time to be had for families and although we recommend it for ages twelve plus, due to the kids in the film being allowed to watch a "Friday the 13th" movie, and the kids mixing up prescription medicine for Dan and Charlie, some kids under twelve would be fine seeing the film with parents along. There are some good themes such as doing the right thing and being responsible for one's behavior. The old dogs will make viewers laugh, old and young alike
Info
Writer:
David Diamond and David Weissman
Reviewer:
Edwin L. Carpenter