For the Love of Aaron
DVD Release:
December 1, 2009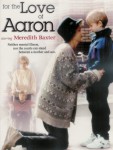 Synopsis
This is the emotional account of Margaret Gibson, a dedicated mother struggling with mental illness. After Margaret suffers a psychological episode that results in hospitalization, her ex-husband decides to fight for custody of their third-grade son Aaron. Desperate to prevent losing him, Margaret works with her therapist and gets the proper medication to beat her affliction.
Prepared for the fight of her life, she faces her ex in court to prove she's fully capable of caring for herself and, more importantly, Aaron. In a gripping courtroom confrontation, Margaret and Stuart battle it out in an intense custody hearing that has surprising results.
This is the heart rendering drama of a woman who finds the strength and courage to overcome her illness and fight for her son.
Dove Review
Margaret Gibson (Meredith Baxter) is an author who suffers from mental illness. She does some odd things such as putting her son Aaron's tennis shoes in the dishwasher. She also breaks down from time to time and loses touch with reality. The one thing that seems to keep her from totally falling apart is her love for her son Aaron.
This story shows the many struggles she goes through along with Aaron, a third grader. Her ex-husband is behind on child support and there are times there isn't enough to eat, but she always makes sure to be there for him and she keeps him laughing by acting out characters or just being silly. She also eats less so he will have more.
During the course of the story Margaret meets a new doctor who wants to try a new course and she begins to show improvement. In fact, Baxter plays the role exceptionally well as she seems like two different people when comparing her role in the beginning of the film to her personality by film's end.
Although the film demonstrates her love for her son and the sacrifices she makes, along with her fortitude, unfortunately she curses a character twice in the story by using strong language and we are therefore unable to award our Dove "Family-Approved" Seal to this movie.
Info
Company:
Echo Bridge Home Entertainment
Reviewer:
Edwin L. Carpenter