A Sons Promise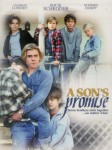 Synopsis
A Son's Promise is the touching, true story of an iron-willed Georgia boy who accepts the burden of a man on his young shoulders. Fifteen-year-old Terry O'Kelly (Rick Schroder) is fatherless, and his remaining parent, his mother, is dying. Anguished, the soon-to-be orphan makes a surprisingly grown-up decision: Terry promises to care for his six brothers and vows to keep the family together – no matter what. Steadfast to his word, Terry takes on the struggles of parenthood, which yields some difficult and unpleasant surprises. But when the family suffers a series of grim misfortunes, including starvation, deprivation and natural disaster, Terry's will is tested to the limits until he reaches his breaking point. Tempted to just walk away from it all, will Terry break his vow, or will he continue to fight against all odds and keep his family together as promised?
Dove Review
Being the oldest in a family is not always easy, as Terry O'Kelly finds out. He made a promise to his dying mother that he will keep the family together. As her tries to take care of himself and his six brothers there are lots of obstacles that pile on this teenager's heavy load.
This is a story of testing one young man's spirit and will-power to maintain the promise of keeping the family together. This is a very dramatic tale of endurance, responsibility and the hard work of a young boy who becomes a man before his time. Although this is an inspiring movie, it contains some elements that puts it outside the Dove guidelines and cannot, unfortunately, receive our Dove "Family-Approved" Seal.
Info
Company:
Echo Bridge Home Entertainment
Industry Rating:
Not Rated
Starring:
Rich Schroder
,
Donald Moffat
,
Veronica Cartwright
,
Stephen Dorff
,
Andrew Lowery
,
Boyd Gaines
,
Jim Peck
,
Danny Nelson
,
Ken Strong
,
Andy Stahl
,
Linda Pierce
,
Benji Wilhoite
,
Trey Yearwood
,
Dan Biggers