Littluns and the Book of Darkness (Novel)
Book Release:
December 1, 2009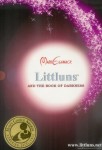 Synopsis
This is an epic animated, fantasy, mythological adventure and journey into a volatile unknown that will stir the reader's every emotion while presenting real-life examples that everyone can relate to. It is a story of extreme good and innocence in a world of chaos from the resulting seductive effects of evil. It clearly defines the difference and becomes the family friendly alternative. If readers are looking for a different reading experience that will keep them on the edge of their seat, and touch their heart, they'll find it in "LITTLUNS: and the Book of Darkness."
Dove Review
If one knows the book of Revelation, the last book of the Bible, it will help the reader appreciate this symbolic story more. But being an expert in the Book of Revelation is not required to appreciate this story of the battle and struggles of good versus evil. The author takes us into a world which is reminiscent of Tolkien.
There are goblins and dwarfs and a necromancer and sorcerers and holy men and those who seek to fulfill the Book of Darkness and those who look to follow God's word and light and love. The content is recommended for ages twelve plus as it does include the use of drugs to poison food and drink, and the use of dark arts. Still, the Bible is quoted and this symbolic story parallels the Book of Revelation and the dark figure who is akin to the Anti-Christ, an evil character who desires to rule the world and to rid it of light and love.
This story is well written and the good and evil aspects are a feature throughout the book. Parents should consult our content listing below. The book is not for everyone, but many will enjoy its vivid descriptions and writing. It is a very literate story with well written and defined good and evil characters. Those who especially enjoy medieval literature and allegorical stories mirroring Biblical themes will enjoy this book. We gladly award this book our Dove "Family-Approved" Seal for ages twelve plus. There is hope for the characters in this story who wish to avoid the dark side of this shadow world!
Info
Company:
EZ Gift Shopping
Industry Rating:
YoungAdult
Starring:
Illustrator: Mark Glamack
Reviewer:
Edwin L. Carpenter