Leap Year
Theatrical Release:
January 8, 2010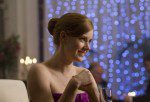 Synopsis
Adams will play an uptight woman who travels to Dublin to propose to her boyfriend on leap day, Feb. 29, following an Irish tradition in which women propose to men on that day and the man has to say yes. When weather derails her trip, she enlists the help of a surly Irish innkeeper to make an unexpected cross-country trek to pull off the perfect proposal in time.
Dove Review
What would you run back for if there was a fire which broke out in your home? This question helps set up the plot of this romantic comedy, which is a bit slow moving in parts but a few of the jokes work okay. Then you have the one in which Declan (Matthew Goode) makes Anna (Amy Adams) a bet and says, "Heads I win, tails you lose." Anna doesn't get it when she loses, until later. The joke doesn't really work but it does reveal that there is some innocence remaining in the character of Anna, who is so romantic she follows her boyfriend Jeremy (Adam Scott) to Ireland to propose to him on February 29, Leap Year day, as it is a tradition among some of the folk that a woman can propose to a man when Leap Year day arrives.
There is more to Declan, a pub/restaurant owner, than meets the eye and Anna becomes aware that despite his gruff and flippant ways, he may be a bit more sensitive inside than he is letting on. He fights three other men who steal her luggage and she finds herself falling for him just before her fiancé' shows up.
There are, as already mentioned, a few funny and good moments in the movie, especially when Declan teases Anna and she doesn't catch on right away. And the theme of following your heart even when it's difficult is nice. However, there are a few sexual innuendos as well as strong language which prevents us from awarding our Dove "Family-Approved" Seal to the film.
Info
Company:
Universal Pictures
Writer:
Deborah Kaplan and Harry Elfont
Reviewer:
Edwin L. Carpenter