Youth in Revolt
Theatrical Release:
January 8, 2010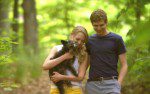 Synopsis
While his trailer trash parents teeter on the edge of divorce, 14-year-old Nick sets his sights on dream girl Sheeni Saunders, hoping that she'll be the one to take away his virginity.
Dove Review
Here is an original story. Nick Twisp (Michael Cera) is a virgin and wants to bring an end to that reality of his life. Many films before this one have targeted teens with this topic. Cera (of the dubious "Year One" film) seems determined to play this type of role in perpetuity.
Nick meets Sheeni (Portia Doubleday), who likes a lot of the same things and so Nick believes his chance has arrived.
Nick invents an alter-ego named Francois Dillinger since Sheeni's into French things. Francois has a mustache and is more confident and even…well, arrogant. And this is pretty much the story which includes heavy doses of…surprise…drum roll now…sex, drinking and drugs. If this film had anything artistic or earthshaking to say, I must have missed it.
Due to the content cited below, we cannot come close to awarding our Dove Seal to this film. Hopefully, Cera will try an "adult" role some day and hopefully in a movie the entire family can watch. Now that would be a change of story.
Info
Writer:
Gustin Nash and C.D. Payne
Reviewer:
Edwin L. Carpenter