Extraordinary Measures
Theatrical Release:
January 22, 2010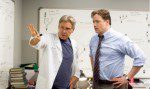 Synopsis
Harrison Ford, Brendan Fraser and Keri Russell star in "Extraordinary Measures" for CBS Films, the film division within CBS Corporation (NYSE: CBS.A and CBS). The project, which wrapped principal photography in mid-June 2009, was the first film to go into production for CBS Films. Ford is also executive producer on the project. Tom Vaughan ("Starter for 10," "What Happens in Vegas") is directing.
In the tradition of great inspirational dramas like the Academy Award nominated film "Erin Brockovich" and "The Pursuit of Happyness," "Extraordinary Measures" is inspired by the true story of John Crowley, a man who defied conventional wisdom and great odds, and risked his family's future to pursue a cure for his children's life threatening disease.
From his working class roots, John Crowley (Brendan Fraser) has finally begun to taste success in corporate America. Supported by his beautiful wife Aileen (Keri Russell) and their three children, John is on the fast track. But just as his career is taking off, Crowley walks away from it all when his two youngest children, Megan and Patrick, are diagnosed with a fatal disease. With Aileen by his side, harnessing all of his skill and determination, Crowley teams up with a brilliant, but unappreciated and unconventional scientist, Dr. Robert Stonehill (Harrison Ford). Together they form a bio-tech company focused on developing a life-saving drug. One driven to prove himself and his theories, the other by a chance to save his children, this unlikely alliance eventually develops into mutual respect as they battle the medical and business establishments in a fight against the system – and time.
Dove Review
"Extraordinary Measures" is one of those rare films that has a heart. As we follow the struggles of a family with two children who likely won't make it to their 9th birthdays, we experience the anger and frustration as they have to deal with lots of red tape in their efforts to gain the use of a new drug which offers great hope. The acting and directing is wonderful and the messages of perseverance, strong family life and love are all good elements. However, this film is peppered with so much language including biblical profanity, we cannot award our Dove Seal to this otherwise inspiring story.
Info
Writer:
Robert Nelson Jacobs and Geeta Anand