Night John: Words Are Freedom
DVD Release:
February 10, 2010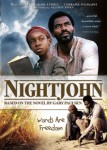 Synopsis
Based on the novel by Gary Paulsen, "Night John" is the triumphant story of twelve-year-old Sarny, a slave in antebellum South. At the plantation of Clel Waller ( Beau Bridges), she faces a grim future of serving at table and spitting tobacco on roses to prevent infestation. Then, Night John (Carl Lumbly) arrives. A former runaway slave who bears telltale scars on his back, he takes Sarny under his wing and, in exchange for a pinch of tobacco, secretly teaches her to read and write, a crime punishable by death. Together, the two free other slaves by forging passes to the North….until a planned escape is discovered, and Sarny's knowledge becomes her most deadly asset.
Dove Review
Words. To a great extent, that is what this film is about. A young girl named Sarny, whose mother was sold to another slave owner, longs to read when a slave named John, also known as Night John, comes to work the cotton plantation and she learns of his reading ability. He barters with her for tobacco and begins to teach her the letters of the alphabet. Soon, Sarny endangers her fellow slaves and friends as she has to keep her new reading ability hidden or suffer the consequences along with her friends.
The viewer also learns that Night John is not just after tobacco. He has made it his mission, due to a difficult past, to teach anyone who truly wants to learn. The mean plantation owner, Waller (Beau Bridges), looks upon the slaves as a means to his financial wealth, and has no intentions of allowing them to learn to read, or to learn anything other than being good cotton pickers.
This is an inspiring story and realistically shows the hardships of the slaves and the determination of young Sarny to learn more no matter what the consequences. We gladly award this DVD our Dove "Family-Approved" Seal. Inspirational!
Info
Company:
Echo Bridge Home Entertainment
Starring:
Beau Bridges; Carl Lumbly; Lorraine Toussaint; Bill Cobbs; Kathleen York; Gabriel Casseus; Allison Jones
Reviewer:
Edwin L. Carpenter