Tea Party: The Documentary Film
Theatrical Release:
November 2, 2009
DVD Release:
November 2, 2009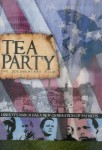 Synopsis
Drawing on unprecedented access to key organizers and the tea party activists themselves, "Tea Party: The Documentary Film" follows the struggles of five grassroots individuals and their transformation from home town rally goers to national activists in the 9/12 March on Washington D,C, including never before seen footage of policy discussions on Capital Hill. In the process, it reveals what is at the heart of a nationwide surge of civic engagement – a return to and respect for a Constitutionally limited government, personal responsibility and fiscal restraint at the Federal level. The film seeks to further conversation about the principals of the movement among tea party activists and provide a compelling means to share the story with those on the outside who are looking to understand its true nature.
Dove Review
One of this countries greatest freedoms for its citizens is the right to peacefully protest when you feel that your government has overstepped its bounds of control. In our current economic crisis, it is clear that not everybody agrees on how we should solve some of our pressing issues such as universal health care. This documentary follows a group of people who are standing up for their beliefs.
This educational film illustrates how people can organize together to share a common purpose and ultimately attempt to influence how our government works. While you may not agree with the opinions of the "Tea Party" activists, it is important to understand that we have the freedom to express our views in a peaceful and yet impressive way by rallying together like minded people for a cause in which we believe.
Info
Company:
Ground Floor Video
Industry Rating:
Not Rated
Starring:
Comments by: Dick Armey; Andrew Breitbart, Freedom Works President Matt Kibbe; Representatives: Tom Price,
Micke Pence
, John Conyers; Senator Jim DeMint; Tea Party Patriots Director Jenny Beth Martin and many others