Turbo Dogs: Racing with the Team
DVD Release:
June 1, 2010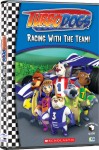 Synopsis
Rev up your engines for TURBO DOGS! The new CGI-animated television series that features over the top racing action, comedic hijinks and valuable life lessons.
Available in over 30 million homes on Qubo, NBC, Ion and Telemundo, TURBO DOGS introduces a comical group of canine friends living in a town that is wild about racing! Dash, Mags, GT, Strut, Stinkbert and Clutch are the town's Turbo Dogs and although they may be fierce competitors on the track and let's face it, celebrities in the town of Racerville, they always (well… almost always) try to remember winning isn't everything. At the end of a long hard day at the track, it's their friendships that matter most. These Turbo Dogs are truly friends to the finish line!
While kids are sure to get caught up in the action-packed storylines and non-stop antics of this 8-episode release, an emphasis on team work will also see that they zoom away with some rules for the road.
Dove Review
This animated collection uses dogs as race car drivers to teach your youngsters valuable lessons in their life. These episodes teach teamwork, asking for help, following rules, and friendship. Turbo Dogs are truly educational and fun for everyone in the family to watch and learn from. We are proud to award this DVD the Dove "Family-Approved" Seal for all ages.
Info
Company:
Morningstar Entertainment
Producer:
Kristine Klohk; Rodney MacDonald