Flowers for Algernon
Theatrical Release:
February 20, 2000
DVD Release:
January 15, 2010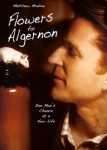 Synopsis
This is a touching story of a gentle, mentally-handicapped man who faces the chance of a lifetime and the hard changes that come with it. After undergoing experimental brain surgery to increase his intelligence, Charlie (Matthew Modine) is emboldened with his newfound genius, but finds himself questioning the value of his intellect and struggling to accept his former self. He confides in Algernon, a lab mouse who has had the same procedure, and his teacher, Alice (Kelli Williams), who he begins to fall for. Adapted from Daniel Keyes' timeless novel, "Flowers for Algernon" is an acclaimed drama of self-discovery, the unbreakable bonds we form with those who understand us and the capacity we hold to change.
Dove Review
Here is a well told story, an update on the film which made a big splash in the 60s and is based on the book by Daniel Keyes. This one stars Matthew Modine who does an excellent job playing Charlie Gordon, a retarded young man who works in a bakery, and receives a rare opportunity to undergo an operation which might increase his intelligence. Following the surgery and Charlie's surging intelligence, he realizes some of his co-workers had fun at his expense and they feel awkward now that they no longer can tease him.
Charlie becomes attached to Alice Kinnian (Kelli Williams), his teacher. He sees her in a different light once his intelligence soars. Sadly for Charlie, a mouse which had undergone the surgery even before he did, named Algernon, begins to regress and regress rapidly. It soon becomes apparent that Charlie's amazing recovery will be short lived.
This is an interesting story and handled well by the filmmakers but unfortunately there is a scene which, though not graphic, clearly is a scene of an unmarried couple having sex. The woman is seen in bed with her nude back showing. This prevents us from awarding our Dove Seal to what was otherwise a nicely made film.
Info
Company:
Echo Bridge Home Entertainment
Industry Rating:
Not Rated
Reviewer:
Edwin L. Carpenter