Yeah Yeah Out Loud Kit (Book)
Book Release:
January 22, 2010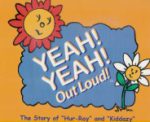 Synopsis
YYOL® is a self-esteem kit that can successfully be used by educators in classrooms AND by parents one on one with their children to empower them to discover their inner "cheer" leader (a "voice" that can help guide them from an early age and remain through tough times growing up). The magic is in hearing the YEAH YEAH cheer from your kids!
Hur-Ray© and Kiddazy® are puppets that can play in all environments. In the YYOL® picture book (translated to German and Spanish) Hur-Ray© (notice the YYOL® face) encourages the flower to grow, which it does and then in thanks, acknowledges Hur-Ray's© cheers by encouraging others (no narcissism here)! At that point, the flower becomes Kiddazy® (who also now has a YYOL® face).
YEAH YEAH is a mantra to embrace; something a little easier than "I think I can, I'll try my best"….and YYOL® is a new text acronym meaning: "way to go, you did it all by yourself"! Instilling this will help give them the confidence to say "no" to the variety of obstacles they could face as they mature (bullying, substance abuse) and help enhance self-confidence!
As a parent, by telling the story and incorporating the YEAH YEAH cheer at appropriate times, your child will begin to be their own best cheerleader knowing when the going gets tough, they can find it inside! YEAH YEAH.
As an educator, you can introduce the story in many educational areas, sending the YYOL® message and fulfilling an educational requirement at the same time with coordinating worksheets. Math, science, reading, religious aspects….it's all up to you.
There are FREE YYOL® activities that teach children how to be proud of who they are; learning how to introduce themselves; experiencing and putting a face to emotions; as well as coloring pages to help solidify the theme on a daily basis.
Classroom "aides" include stickers (come with the educator's kit). Also available is a YYOL® poster to which you can add classmates names when nominated for being YYOL®.
Become a YYOL® community and find YOUR inner "cheer" leader. Easy and fun….for you the parent/educator and the children! YEAH YEAH
Dove Review
What a great kit! In each kit there is a bright tote to carry the puppets and the book. In the folder are activities and informational sheets for parents and children. Together you and your child or children will discover the fun you will have as you interact in this educational collection. This kit will help teach them the importance of encouragement in themselves as well as in others along with adding to their growing knowledge. We award "Yeah! Yeah! Out Loud Kit" the Dove "Family-Approved" Seal for all ages.
Info
Starring:
Illustrated by: Jan Bayot