Wildfire: The Arabian Heart
DVD Release:
July 13, 2010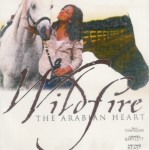 Synopsis
Lindsey, a teenage girl, is talked into driving across country from Lowell, Massachusetts to visit her Uncle Jack in the midwest who has never recovered from a tragedy in his past. There she falls in love with a ranch hand named Logan and finds herself tricked into volunteering for a race at the county fair. The problem is she has no riding experience but she just can't back out so she defies the odds and learns enough to compete. The movie is beautifully filmed in the midwest along a river valley ranch. This is a family styled feature film about a girl coming of age as she connects with her past, lets loose the champion within and meets the love of her life. Lindsey starts out from Lowell and heads out on the road leaving the city life behind and her life changes at her Uncle Jack's place. Here on a midwest horse ranch, she makes new friends and meets a horse named Wildfire.
Dove Review
The word to describe this movie is "interesting". Traveling from the east coast to the country side of the midwest is always a life changing event if you are not ready for it. Lindsey finds herself in surroundings that she knows nothing about. But her mom has asked that she take the trip to help close the gap that has been part of of the family for ten years. Now she is old enough to find out about her uncle and his problems and help him.
The storyline has some good stuff but it is unclear what the main theme is exactly. This movie tries hard to get going but, with continuous confusion, unfortunately, it jumps between family matters, friendship, and coming of age along with various relationships. Then there is an issue with the actors portraying their characters in a believable fashion. Some of the acting is wooden. In my opinion this movie needs something that I cannot find words for. There is nothing contained in this movie that is objectionable, it may just need a smoother transition of storyline as well as better editing as it is a bit choppy in spots. However, we award the Dove "Family-Approved" Seal for all ages and we appreciate its theme of family loyalty.
Info
Company:
Mean Alien Media Co.
Starring:
Willa Townsend; Alexander Bartlett; Gary David Keast