No Limit Kids: Much Ado About Middle School
Theatrical Release:
May 6, 2010
DVD Release:
May 11, 2010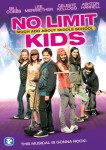 Synopsis
"Much Ado About Middle School" centers around a group of kids entering middle school for the first time with all their doubts and fears. Ashton is a self-proclaimed semi-outcast and routinely bullied by the star-football player Zack. Ashton is raised by his grandmother, Katie, and his whole philosophy about middle school life is to just lie low and attract as little attention as possible. Celeste is also unsure of middle school because of the ways in which her friends are changing. She is a cheerleader, but unlike her friends, doesn't want to make herself popular at the expense of others. However, Danielle believes that Celeste is trying to steal her boyfriend and takes revenge by casting her out of her clique. But Celeste's friend Becca stands up for her, and these three unlikely outcasts band together to form a club in an old abandoned theater on Main Street.
Inside the theater they not only find a very interesting piece of their town's history, but also a seemingly homeless man, Charlie. He is kind to the kids and connects with them because of his own "Outcast" status and his musical theater passion which he shares with the kids. The kids learn that the old theater will soon be torn down and they set out on a mission to save the town's landmark and Charlie's safe haven. Needing to raise money, they decide to do a modern day version of Shakespeare's "Much Ado About Nothing." Through mistaken identities and false assumptions, the kids learn a valuable lesson that you can't always judge a book by it's cover.
Dove Review
Middle school is always a trying time for kids. Their friends change, they try to fit in and stay out of trouble. "Much Ado About Middle School" features these topics which kids face in a wonderful musical story. Ashton tells his tale to the audience as does Celeste, as each of them try to ward off the dangers of starting middle school. Ashton is trying to stay out of the way of the football jock that is bullying him and Celeste along with her friend Becca find out about the lies that Danielle is spreading. Along the way the three find that they all have an interest in music.
The entire family will enjoy this wholesome story about three kids who try to do the right thing. There are many encouraging values to this charming movie that will help young and old alike. We are proud to award the Dove "Family-Approved" Seal for all ages to " Much Ado About Middle School."
Info
Company:
Bridgestone Multimedia Group