Kids Good Manners
DVD Release:
February 10, 2010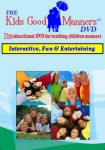 Synopsis
The Kids Good Manners DVD attempts to teach important lifetime lessons while reinforcing positive role models and values taught by parents, grandparents and teachers. Children viewing the DVD are taught proper manners by being presented with a series of social situations. Contestants in the DVD, and children viewing the DVD, are given options for proper behavior in a variety of social situations and awarded points for the correct answer in a game show format.
Dove Review
In this day and age I have found that children are sometimes missing manners when in public or even with their families. But, there are also some adults that have forgotten how to be polite and use proper manners. Here is a DVD that will help anyone young or old. This DVD is set in a classroom type environment along with a quiz that will take you through many topics that everyone should know. Topics are discussed such as washing your hands, using a tissue when sneezing, table manners, opening doors and as well as using "Please" and "Thank You."
This DVD is an educational tool for everyone. We award "Kids Good Manners" with the Dove "Family-Approve" Seal for all ages.
Info
Company:
The Kids Good Manners Co.