Upside
DVD Release:
October 5, 2010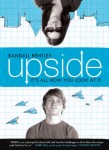 Synopsis
For a high school senior, Soli (Randall Bentley, NBC's Heroes) has it all: fast car, hot girl, prestigious athletic scholarship, wealthy mom, and a hidden talent. After a debilitating head injury, Soli is left with a very rare vision disorder that leads him into a world about which he knows very little. While a new bond with a lonely college professor and a burgeoning interest in an unlikely girl influences Soli's rapidly changing perspective, he is forced to see the world differently as he struggles with identity, maturity, love and a decision he never dreamed he would face.
Dove Review
When you are a high school senior there are so many pressures going on in your life, picking the right school, dating and friends. After Soli's accident his world literally turns upside down, which sends him into a direction that he never thought about in his life.
Soli's teacher, Mrs. Buck, sees a potential in him that needs to be pushed into high gear. With her help, along with the help of Professor Craig Parker, Soli begins looking at the world around him to find out what he really wants in life. In doing so he finds someone to help his search, Wren, who was blind from birth, and who enlightens him to see the world through her eyes. This world takes him on a journey of believing and finding faith in God. This is a faith-based movie about growing up and making the right decisions in one's life. Everyone has a purpose in life but sometimes we don't always see it until it is put in a different direction, upside down. This is an enjoyable film for the family, especially the teens in the house. We proudly award this film the Dove "Family-Approved" Seal for 12 and older.
Content Description
Drugs:
Young man is taking prescribed drugs; college party with drinking but main character turns drinks down.
Info
Company:
Spyplane Films, LLC
Starring:
Randall Bentley, Jr.; Leah Sims; Taylor St. Clair