The Golden Rule: Secrets of Marriage from Couples Married 50 Years or More
DVD Release:
February 1, 2010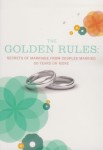 Synopsis
Features couples who have experienced a lifetime of happiness together. These true experts on marriage share their inspirational and informative marital wisdom that comes from the highs and lows of spending more than a half a century together. Watch as three young couples discuss their relationships and learn how they can enjoy the romance and fulfillment that accompany a happy, lifelong marriage.
Dove Review
The voice of experience. What better person to learn something from than an expert in the field? Three couples, one newly married and the other two about to tie the knot, view and listen to clips from couples who have been married for many years. They share their wisdom on important subjects such as money, trust and taking time to truly talk.
Host Lauren Glassberg does a terrific job in drawing responses from the couples and they address kissing good-night even when one or both partners are angry. The three young couples are Karen and Brian, Beth and Ben, and Jennifer and Justin.
The wisdom the older couples impart is priceless and this DVD is definitely worth viewing. We recommend it for ages twelve plus and happily award it our Dove Seal. Along with your pre-marital counseling, this DVD just might help couples avoid some marital pitfalls.
Content Description
Sex:
Wife touches husband's leg; it is mentioned by one couple who have not yet married they are living in the same house but nothing sexual is mentioned or explored.
Info
Company:
Bridgestone Multimedia Group
Producer:
Daniel J. Victor; Jerome Angel
Starring:
Host: Lauren Glassberg; Couples: Frank & Zella Batzek; Don & Dolly Cummings; Charles & Mary Lou Herschlag; Bud & Evelyne Johnson; Joe & Georgia Mark; Gene & Betty Pagnotta
Reviewer:
Edwin L. Carpenter