Alondra Smiles: A Quinceanera Story
DVD Release:
June 10, 2010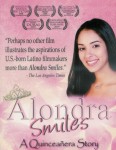 Synopsis
Alondra has had a rough start in life, but with the love and support of her grandparents and friends she is planning to have a special 15th birthday. Her plans seem to be coming along better than expected, that is until her spoiled cousin Tatiana has her own aspirations and is willing to ruin anyone's life to get her way.
Dove Review
Traditions are always important to everyone. In the Latino community the 15th birthday is a big event for a young girl. They are leaving their childhood behind and becoming a woman. Alondra and her cousin Tatiana are both planning a party but each one has a different idea of what the party should be like.
Alondra has a pure heart and does not treat the people around her disrespectfully. She tries her best with family and friends. Tatiana on the other hand is spoiled, her party must have the best and she wants everything her way no matter what it takes. Here are two different girls with two very different views on tradition, family and friendships. This is a movie about coming of age, relationships and traditions and is truly an enjoyable family film. We award this movie the Dove "Family-Approved" Seal for all ages.
Info
Company:
Villa Media Productions
Industry Rating:
Not Rated
Starring:
Natalie Gomez
,
Paloma Rodriguez
,
Anthony Marquez
,
Hugo Daniel Delagado
,
Brandon Miradi
,
Crystal Havens
,
Marie Lusher
,
Sno E. Blac
,
Manny Cass
,
Josefina Ortega-Villa
,
Felipe Alejandro
,
Patrick O'Connor