Becoming Jesse Tate
DVD Release:
February 15, 2010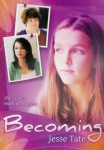 Synopsis
Jesse Tate is a vivacious 13 year-old girl trying to cope with life while keeping a family secret. She struggles to be part of the "in crowd" and the weird new feeling that boys really aren't that dumb, all while going to church and keeping her grades up. It's a lot for anyone to handle.
Now, the secret threatens her faith, friendships and family. She must search for the things that are really important to her. Along the way, she discovers the meaning of forgiveness and ends up helping those around her without even knowing it. Not bad for a 13 year old who is just trying to keep it all together while…Becoming Jesse Tate.
This is a sweet story about forgiveness, friendship, and putting your faith into action. Jesse learns that being in the "in crowd" is not as important as true friendship and the love of your family and God. Set in the world of a young teenager, Jesse seemingly does all the right things, yet things still fall apart. Truths become difficult to discern, but through her friends, her pastor, and her faith, she learns how to navigate the tricky waters of growing up. Jesse unexpectedly finds that she has friends she never knew she had and a faith that transforms those around her.
Dove Review
Being a teenage girl is always hard. Trying to be in the in-crowd in school, doing the right things and being a good friend to those around your no matter what is difficult. Add keeping the faith in what you believe in and it is tough for anyone. This is a story about Jess Tate, who is a charming young 13 year-old, but there is a secret in her family. Once that secret comes out those she thought were her friends turn their back on her.
This is a charming faith-based story of friendship and forgiveness. As Jesse faces the problems that affect her life, she finds that through her faith and some unexpected friendships she can help solve the problems. Many coming-of-age lessons are shown in this wonderful film. We award this DVD the Dove Seal for all ages.
Info
Company:
Bridgestone Multimedia Group
Writer:
Janese Gayle; Steve Horswill-Johnston
Producer:
Brad Wilson; Jamie Elliott; Ralph E. Portillo
Industry Rating:
Not Rated
Starring:
Amanda Waters; Bailey Anne Borders; Marco Daniele; Janet Ivy; Steve Wedan; Lori Stegner