The Nanny Express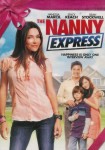 Synopsis
She's a busy student looking for a job. He's a widowed dad in need of some help. If his unruly kids will give her a chance, this could be the perfect professional relationship…if only their feelings for each other weren't so personal. But with a little time and a lot of faith, these two just may find a way to make things work. Vanessa Marcil and Stacey Keach lead a charming cast in this heartwarming, romantic comedy about unexpected directions that can change a life and the rewards of every little detour.
Dove Review
Here is one that the girls will love more than the boys. What starts out to be a comedy about two very mean kids who are always making their nannies quit turns into a romantic movie about a nanny falling for her boss. It is a charming story but a fairy-tale for most. It is definitely a film which would be great for the girls' movie night.
Although some of the tactics the kids use to get rid of the nanny are funny, I was disappointed that they never received any reprimand for their terrible actions. At times the young girl is downright rude and plots against the nanny but in return her father buys a car for her 16th birthday. Maybe in their world you can hire a nanny to take care of your children and not correct them when needed but not in mine. One thing that does strike me as a good lesson in this movie, is that we don't always understand the feelings of children when they lose a parent. Due to the commendable themes, we award the Dove "Family-Approved" Seal for all ages.
Info
Starring:
Vanessa Marcil; Stacy Keach; Dean Stockwell;