Relative Stranger
Theatrical Release:
March 14, 2009
DVD Release:
March 16, 2010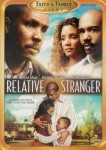 Synopsis
Discover the healing power of family and forgiveness in this inspirational drama. After abandoning his family and a series of disappointing injuries and job setbacks, former footfall player Walter Clemons returns home to attend the reading of his father's will. However, his homecoming is anything but sweet as he discovers the damage his absence has had on the wife, children, brother and mother he left behind. As old hurts are revisited and new relationships formed, Walter is determined to create a new future with his family, and learns that with love and faith, you can go home again.
Dove Review
This is a dramatic story about one man's journey back to the family he abandoned. After six years Walter returns home after receiving a letter regarding his father's death and is requested to attend the reading of the will. With some encouragement from his pastor to mend the family ties he returns but his arrival is not greeted with open arms by everyone in the family.
It is never be easy to return home to mend relationships in a family when a person walks away. "Relative Stranger" is a look at the pain and hurt caused by Walter walking out. This story also shows what it takes to face the mistakes that have been made and what it takes for others to forgive those mistakes. We award this movie the Dove "Family-Approved" Seal for ages 12 and older.
Info
Producer:
Erik Olson; Brian Martinez
Starring:
Eric La Salle; Cicely Tyson; Michael Michelle,
Michael Beach