The Runner From Ravenshead
DVD Release:
May 19, 2010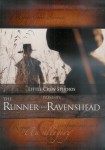 Synopsis
This independent Christian film with an all-children cast provides fun-filled family entertainment and a message to challenge and inspire. After a daring escape from Ravenshead Prison, Sam finds herself in worse trouble. Outrunning the relentless wardens seems imp[ossible…she wonders how much longer her strength can hold out. But help is on the way – kind of. Henry , janitor for the City of Refuge Guide Service, is unexpectedly thrust into the line of duty when all the trained guides are called out on other missions. As he sets out on his long-awaited first assignment, he gets more adventure than he bargained for. Will the enthusiastic amateur guide persuade Sam to Trust him before it's too late?
An Allegory about finding refuge and rest from the metaphorical wardens we face in life, THE RUNNER FROM RAVENSHEAD is a fascinating and fun move for all ages that weaves a profound message into a action-packed adventure.
Dove Review
This is a movie that will surprise you. It features a charming concept where children play all the parts in multiple roles. The group is on an adventure to save those who have gone astray and escaped from the prison. The agents help rescue the escapees from the wardens who follow them continuously until they are caught and returned to the prisons. The only safe place for them to go is the City of Refuge, where the wardens cannot follow.
Henry is a day-dreamer who dreams of the day when he will finally be an agent like the others. So he's delighted when he gets his chance to help Sam. He tries to encourage her to follow his directions and keep pushing on but she tries to resist his advice until she has not choice. You will laugh at some of the slap-stick comedy that is presented. It is a charming movie that along the way teaches some valuable lessons like following directions, listening to others and teamwork. We award the Dove "Family-Approved" Seal for all ages.
Info
Company:
Little Crew Studios
Industry Rating:
Not Rated