Green Zone
Theatrical Release:
March 12, 2010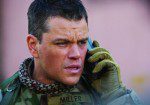 Synopsis
Matt Damon and director Paul Greengrass (The Bourne Supremacy, The Bourne Ultimatum, United 93) re-team for their latest electrifying thriller in "Green Zone," a film set in the chaotic early days of the Iraqi War when no one could be trusted and every decision could detonate unforeseen consequences.
During the U.S.-led occupation of Baghdad in 2003, Chief Warrant Officer Roy Miller (Damon) and his team of Army inspectors were dispatched to find weapons of mass destruction believed to be stockpiled in the Iraqi desert. Rocketing from one booby-trapped and treacherous site to the next, the men search for deadly chemical agents but stumble instead upon an elaborate cover-up that inverts the purpose of their mission.
Spun by operatives with intersecting agendas, Miller must hunt through covert and faulty intelligence hidden on foreign soil for answers that will either clear a rogue regime or escalate a war in an unstable region. And at this blistering time and in this combustible place, he will find the most elusive weapon of all is the truth.
Dove Review
When Chief Warrant Officer Roy Miller (Matt Damon) is told that he has to do what is expected no matter what and that "the reasons don't matter," he replies, "They matter to me." He wants to do what is right and it is easy to go along with him for this treacherous journey into the nightmare of war in Iraq. The story takes place during the U.S. occupation of Baghdad in 2003.
"Green Zone" focuses on this subject which has touched most of us in one way or another, if it is nothing more than having an opinion on whether we should have been there in the first place. The movie takes an inside look into the politics and the military process of the U.S. military in foreign countries. Morality and what guides morality is another topic which some of the characters attempt to tackle in this film. The goal of the military is to search for and find weapons of mass destruction (WMDs) but the search proves fruitless. They are also to save lives and attempt to do so by endangering their own lives. We see into the character's heads as weapons are not found and frustration gives way to suspicion regarding their mandate.
Although Matt Damon is terrific as Roy Miller and the locations are top notch, unfortunately we cannot recommend this as a family film due to strong language and violence. It is a shame but we are unable to award our Dove Seal to this picture.
Info
Company:
Universal Pictures
Writer:
Brian Helgeland & Rajiv Chandrasekaran
Reviewer:
Edwin L. Carpenter