Our Family Wedding
Theatrical Release:
March 12, 2010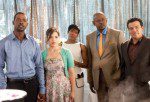 Synopsis
"Our marriage, their wedding." It's lesson number one for any newly engaged couple, and Lucia (America Ferrera) and Marcus (Lance Gross) are no exception. In Fox Searchlight Pictures' 'Our Family Wedding' they learn the hard way that the path to saying "I do" can be rife with familial strife. When they return from college and too suddenly announce their marriage plans, they soon discover that their fathers–two highly competitive over-the-top egos – can wreak a major amount of havoc on their special day.
With insults flying and tempers running high, it's anyone's guess if the alpha dads (Forest Whitaker and Carlos Mencia) will survive to make it down the aisle in one piece. Lucia's mother (Diana Maria Riva) is busy planning the wedding of "her" dreams and the only levelheaded one in the bunch is Angela (Regina King), the groom's father's best friend and lawyer, who manages to keep her cool when the madness reaches a crescendo.
With only weeks to plan their wedding, Lucia and Marcus soon discover the true meaning of love and find there is truth to the saying–that when you marry someone, you marry their entire family.
Dove Review
"Our Family Wedding" includes a scene in which a goat overdoses on Viagra, and attacks (if that is the right word) Forest Whitaker. This is the kind of humor one can expect when watching this movie. Forest Whitaker is an Oscar winning actor and it is sad to see him in a film which, although funny here and there, relies on cheap humor in spots for its laughs.
The premise is that an Hispanic girl named Lucia (America Ferrera) becomes engaged to Marcus (Lance Gross), an African-American. The running joke is the dads (Forest Whitaker and Carlos Mencia) who have their own ideas on how the wedding should go, and the lesson the couple learns is that they are not only marrying each other, but the families on both sides as well.
Although there is a nice theme of true love prevailing no matter what, the strong language and sexual comments in addition to pre-marital sex, prevents us from awarding our Dove "Family-Approved" Seal to this movie.
Info
Company:
Fox Searchlight Pictures
Writer:
Wayne Conley & Malcolm Spellman
Reviewer:
Edwin L. Carpenter