Remember Me
Theatrical Release:
March 12, 2010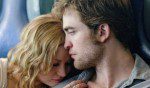 Synopsis
In the romantic drama Remember Me, Robert Pattinson plays Tyler, a rebellious young man in New York City who has a strained relationship with his father (Pierce Brosnan) ever since tragedy separated their family. Tyler didn't think anyone could possibly understand what he was going through until the day he met Ally (Emilie de Ravin) through an unusual twist of fate. Love was the last thing on his mind, but as her spirit unexpectedly heals and inspires him, he begins to fall for her. Through their love, he begins to find happiness and meaning in his life. But soon, hidden secrets are revealed, and the circumstances that brought them together slowly threaten to tear them apart. Remember Me is an unforgettable story about the power of love, the strength of family, and the importance of living passionately and treasuring every day of one's life.
Dove Review
"Remember Me" features some powerful storytelling as it focuses on real life events and tragedies which many people face every day. Tyler Hawkins (Robert Pattinson) plays a young man who is about to turn twenty two years old, and he's already experienced plenty of tragedy and hardship as his brother Michael committed suicide some years ago, and he now barely has a relationship with his father, who is divorced from his mother and rarely shows any interest even in his youngest daughter Caroline (Ruby Jerins). This infuriates Tyler and he personally spends as much time with his sister as he can.
He gets into a fight but is not arrested until he grabs a certain cop's arm while trying to get his attention. His father bails him out but when his buddy Aidan Hall (Tate Ellington) dares him to ask the cop's daughter out on a date, he takes the dare and goes out with her. However, the catch is that he soon falls for the young woman, Ally (Emilie de Ravin), who experienced her own tragedy when she watched her mother murdered at the subway station by a mugger when she was a child. She falls for Tyler too but when her father learns of the relationship, it threatens to tear them apart.
Tyler believes that what people do in life is insignificant and although he has read that people should try to make a difference, he assumes it won't help. Yet the interesting thing is that Tyler himself begins to make a difference in several people's lives without realizing he is doing so. He also learns something which surprises him about his father.
It is a shame that despite themes of loyalty, doing the right thing, and moving forward in life despite great pain, that this film includes some very strong language in addition to implied sex between an unmarried couple. In addition there are several sexual innuendos and many drinking and smoking scenes and we therefore are unable to award our Dove "Family-Approved" Seal to this picture.
Info
Company:
Summit Entertainment
Reviewer:
Edwin L. Carpenter