Repo Men
Theatrical Release:
March 19, 2010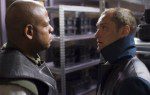 Synopsis
In the futuristic action-thriller Repo Men, humans have extended and improved our lives through highly sophisticated and expensive mechanical organs created by a company called The Union. The dark side of these medical breakthroughs is that if you don't pay your bill, The Union sends its highly skilled repo men to take back its property…with no concern for your comfort or survival.
Jude Law plays Remy, one of the best organ repo men in the business. But when he suffers a cardiac failure on the job, he awakens to find himself fitted with the company's top-of-the-line heart-replacement…as well as a hefty debt. But a side effect of the procedure is that his heart's no longer in the job. When he can't make the payments, The Union sends its toughest enforcer, Remy's former partner Jake (Academy Award® winner Forest Whitaker), to track him down.
Now that the hunter has become the hunted, Remy joins Beth (Alice Braga), another debtor who teaches him how to vanish from the system. And as he and Jake embark on a chase across a landscape populated by maniacal friends and foes, one man will become a reluctant champion for thousands on the run.
Dove Review
Effective January 1st, 2009, The Dove Foundation Review Team has ceased reviewing all NC-17 rated movies and certain extraordinarily explicit R-rated films. This decision was reached due to the fact that Dove reviewers are parents or grandparents with conservative values. As such, we feel that we can no longer expose these dedicated and caring people to movies that contain distasteful and appalling stories that are focused on graphic horror and violence, and/or gratuitous depictions of explicit sex and nudity.
"Repo Men" is considered to be such a film. Our report is therefore limited to the business information (title, rating, distributor, producer, director, actors, etc), synopsis, and the content chart.
Info
Company:
Universal Pictures
Writer:
Eric Garcia & Garrett Lerner
Reviewer:
Edwin L. Carpenter