How to Train Your Dragon
Theatrical Release:
March 26, 2010
DVD Release:
October 22, 2010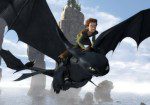 Synopsis
The studio that brought you "Shrek," "Madagascar" and "Kung Fu Panda" comes "How to Train Your Dragon." Set in the mythical world of burly Vikings and wild dragons, and based on the book by Cressida Cowell, the action comedy tells the story of Hiccup, a Viking teenager who doesn't exactly fit in with his tribe's longstanding tradition of heroic dragon slayers. Hiccup's world is turned upside down when he encounters a dragon that challenges he and his fellow Vikings to see the world from an entirely different point of view.
Dove Review
This is a delightfully funny and visually mouth-dropping film! The filmmakers hit a homerun with this one as it is a good story with wit and charm to boot. Hiccup (Jay Baruchel) is a Viking who hasn't been able to take up his father Stoick's (Gerard Butler) mantle. He believes he will never be a dragon slayer. He manages to capture one but when he sees how frightened it is, he releases it. The two soon become friends with Hiccup giving the name "Toothless" to his friend. The name is both appropriate and a bit deceiving at the same time.
During dragon slaying routines while his father is away, Hiccup learns a lot about dragons and taming the various creatures of the land by reading a book about them. It is nice to see a film promoting reading. When Hiccup puts his new techniques to work, everyone thinks he is a natural dragon tamer when the truth is he has learned their secrets and how to get along with them.
During the course of the story Hiccup and Astrid (America Ferrera), a girl he happens to like, learn where the dragon's nest is. When his father returns home and learns of Hiccups exploits, he is proud and sets the stage for his son to become the ultimate dragon slayer. Hiccup wants to reveal the truth to his father but at the same time not let him down.
The characters are delightful and there are themes of loyalty, discovery, and realizing there is more to a person than meets the eye. It also turns into a nice father-son tale as well. We highly recommend this film, while noting that there are intense scenes of fire-breathing dragons and some battles which might be a bit much for very young viewers. We are recommending the film for ages twelve and above but many kids under twelve will enjoy this movie immensely. It is remarkable! We award this film five Doves, our highest rating!
Info
Writer:
Cressida Cowell & Dean DeBlois
Director:
Cressida Cowell Dean DeBlois & Chris Sanders
Reviewer:
Edwin L. Carpenter