Atom Nine Adventures
DVD Release:
April 9, 2010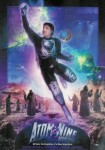 Synopsis
In a remote forest, Astrophysicist Dr. Adam Gaines and his homemade robotic assistant Jimbot recover a 3.5 billion year old meteorite containing an alien organism that may hold the secrets to the universe. What they don't realize is that a mysterious villian named Gremlo Flugg and his band of "Fluggmen" also seek the ancient contents of the meteorite so they can carry out their sinister plans to take over the planet Earth.
Dove Review
There is a lot to like in this movie. The special effects are pretty darn good. The characters are likable and the sidekick, Jimbot, is both funny and original. For example when Dr. Gaines (Christopher Farley) starts lecturing Jimbot about Jimbot being late with an atmospheric reading, Jimbot goes on warning alert, registering that the lecture should end within thirty seconds. Dr. Gaines doesn't know this is happening, but the audience does.
The villain, Gremlo Flugg, is well acted by Colin Armstrong, who reminded me of Malcolm McDowell. Jennifer Ferguson is also quite good as the lead's love interest, Margo Scott.
The quality is there along with some beautiful scenery in the forest for several scenes. We award the Dove "Family-Approved" seal for ages 12 and over.
Info
Company:
Lost City Entertainment
Industry Rating:
Not Rated
Reviewer:
Edwin L. Carpenter