The Back Up Plan
Theatrical Release:
April 23, 2010
DVD Release:
August 24, 2010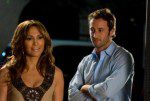 Synopsis
"The Back-up Plan" is a comedy that explores courtship, love, marriage and family "in reverse."
After years of dating, Zoe (Jennifer Lopez) has decided waiting for the right one is taking too long. Determined to become a mother, she commits to a plan, makes an appointment and decides to go it alone. On the day of her artificial insemination, Zoe meets Stan (Alex O'Loughlin) – a man with real possibilities.
Trying to nurture a budding relationship and hide the early signs of pregnancy becomes a comedy of errors for Zoe and creates confusing signals for Stan. When Zoe nervously reveals the reason for her unpredictable behavior, Stan commits fully and says he's in. Never before has love seen a courtship where a wild night of sex involves three in a bed – Stan, Zoe and the ever-present massive pregnancy pillow. Or, where "date night" consists of being the "focal point" at a near-stranger's water birth which does for kiddie pools what "Jaws" did for swimming in the ocean. The real pregnancy test comes when both of them realize they really don't know each other outside of hormonal chaos and birth preparations. With the nine month clock ticking, both begin to experience cold feet. Anyone can fall in love, get married and have a baby but doing it backwards in hyper-drive could be proof positive that they were made for each other.
Dove Review
To list a few positives regarding this film, Jennifer Lopez accomplishes the job in portraying a young woman named Zoe who sincerely desires to be a mother. Zoe's parents died long ago and her surviving relative is elderly and Zoe doesn't want to be alone in the world. She chooses artificial insemination which is controversial for sure. The controversy heightens when she finally meets a man she falls for named Stan (Alex O'Loughlin), and right after the insemination takes place. When he learns she is pregnant, he admits to needing time to really adjust to this conception, let alone a possible life-long commitment. Although this plot device is set up for laughs, and there are a few, there really aren't that many as this seems to be the lone element the writers depended on.
The theme of adjusting to new situations and growing as a person are well done. Regrettably, there is strong language in the film, as well as frank sexual comments and pre-marital sex, and these issues prevent us from awarding our Dove Seal to the picture as a family-friendly film.
Info
Reviewer:
Edwin L. Carpenter