The Rusty Bucket Kids: Lincoln – Journey to 16
DVD Release:
July 1, 2010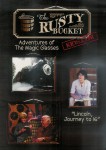 Synopsis
Is time travel possible? For brother and sister JohnColeman and Roxanna Peakssen it is. Their Grandpa Peakssen reveals a family secret: they must find the Oracle and special glasses contained in an old mailbag on the train known as "Steamy" (New Hope Valley Railway, Locomotive No. 17 and Caboose 308). When read with the special glasses, this Oracle sets them on their journey back in time to help fifteen year-old Abe Lincoln, who is struggling to balance his quest for knowledge and his responsibilities to his family. How can the kids help Abe stay on track to become the sixteenth President of the United States? Watch Out! There are others who also want to discover the secret of the time travel vortex. A greedy duo is hot on the kids trail.
Dove Review
Here is an adventure of time travel that will teach a little history along the way. As John Coleman and Roxanna learn of their new ability to travel through time on their first trip they meet a teenage Abe Lincoln. The pair are amazed to meet the future president. They find themselves encouraging this young boy so that history will stay on track as they know it. But in all good adventures there always are the guys that are up to no good if they come across the same skills and they would change the world as we know it.
This movie is a wonderful adventure filled with fantastic historical facts and will entertain the entire family while teaching important valuable lessons. Everyone will want to see where the train takes the kids in their next adventure and what will happen in their small town of Peak City. We award the Dove "Family-Approved" Seal for all ages to this remarkable DVD.
Info
Industry Rating:
Not Rated