Strawberry Shortcake: Her Very First Adventures
DVD Release:
March 6, 2007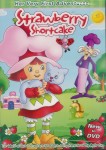 Synopsis
Welcome to Strawberry Land, the charming and peaceful home of Strawberry Shortcake and her fruit-filled friends, where rivers of strawberry juice flow past houses made of pastry! But all is not well in this picturesque paradise. The presence of the Peculiar Purple Pieman of Porcupine peak and his beastly Berry Birds threaten their tranquil existence.
Join Strawberry Shortcake, her cuddly cat Custard, Blueberry Muffin, Orange Blossom, and the rest of the gang as they embark on their first adventure amid battle the Pieman to preserve their heavenly homeland.
Dove Review
Here is the very first adventure of the cute little girl we all know as Strawberry Shortcake along with her charming friends. The friends are always learning new things while protecting their land from the naughty Pieman and his helpers.It is always an adventure for you young children as they are entertained by the sweet Strawberry Shortcake and friends.
This Strawberry adventure is awarded the Dove "Family-Approved" Seal for all ages.