Luna: Spirit of the Whale
DVD Release:
July 29, 2007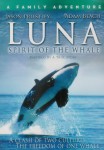 Synopsis
A lone killer whale helps an entire community find their way home. Luna, an orphaned whale becomes the center of a controversy in a small coastal town when a government official is sent to capture it and return it to its pod. The community bands together under the leadership of the local chief to protect the stray whale and let it live freely in the bay. Inspired by a true story, "Luna: Spirit of the Whale" is a tale of two cultures fighting over the freedom of one whale.
Dove Review
This is a family friendly movie. Although there is some language and bad behavior issues, this is an inspiring story about a culture which, united, protects a killer whale in the bay. In any culture sometimes the younger generation doesn't understand the traditions and stray away, then an event happens that sometimes brings them back to their roots. This is not just a story about a whale but also one of personal change and growth. We award this movie the Dove "Family-Approved" Seal for 12+ due to some content issues.
Info
Industry Rating:
Not Rated