Just Wright
Theatrical Release:
May 14, 2010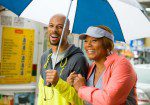 Synopsis
Just Wright stars Queen Latifah as Leslie Wright, a straight-shooting physical therapist who gets the gig of a lifetime working with NBA All-Star Scott McKnight (Common). All is going well until Leslie finds herself falling for Scott, forcing her to choose between the gig of a lifetime and the tug-of-war inside her heart. Oblivious to her romantic overtures, McKnight is instead drawn to the affections of Leslie's gorgeous childhood friend Morgan (Paula Patton), who has her sights set on being an NBA trophy wife. Is Leslie destined to play the role of "best friend" forever or will Scott finally see that what he always wanted is right in front of him? Set against the exciting world of championship basketball, the game of love takes on the battle of the sexes in the romantic sports comedy JUST WRIGHT, starring three of Hollywood's most charismatic personalities as they navigate the full-court-press of love.
Directed by Sanaa Hamri and written by Michael Elliot, the film stars Academy Award® nominee Queen Latifah, Paula Patton, Common, Phylicia Rashad, Pam Grier, James Pickens, Jr. and features NBA all star cameos. The film is produced by Debra Martin Chase, Queen Latifah and Shakim Compere.
Dove Review
This movie has a lot going for it. It features a fine performance from Queen Latifah as Leslie Wright, a physical therapist who has a down-to-earth charm and has dated too many men who consider her "a good friend." When NBA star Scott McKnight (Common) meets her by chance at a gas station, he immediately likes her. Unfortunately, he takes more of a liking to her beautiful childhood friend Morgan (Paula Patton).
Morgan is a gold-digger who quickly loses interest in McKnight when he is injured in the All-Star game and his future in the NBA is in question. It is Leslie who is called on to aid and guide McKnight during his physical therapy and his attempt to be ready in time for the NBA Finals. McKnight learns that he and Leslie have a lot in common, and her dogged determination to get him healthy again inspires him. They share a moment in their common love of music at the piano. However, when Morgan returns later after McKnight shares a romantic time with Leslie, a decision must be made. When Morgan wants to close the door while McKnight plays the piano, he begins to realize he might have let go of what was just right in his life.
Regrettably, this movie looked as if it was going to receive our Dove Seal until near the end, when an unmarried couple sleep together and show no regret. It is the one fly in the ointment for us and therefore The Dove Foundation cannot award our Dove "Family-Approved" Seal to the movie as a family-friendly film.
Content Description
Language:
G/OMG-12; A-1; D-1; BS-1; H (as heard on TV program in movie)-1; "I suck" man says about his own piano playing.
Drugs:
Drinking in several scenes including at a birthday party and restaurant; "I'm your pusher" comment but in reference to love.
Nudity:
Cleavage; a woman's thigh is seen as she lies in bed; shirtless man; a woman therapist is seen in one scene with short shorts.
Info
Company:
Fox Searchlight Pictures
Reviewer:
Edwin L. Carpenter