Summertime Christmas
DVD Release:
November 25, 2010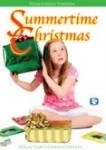 Synopsis
As two of Santa's Elves vacation in small town USA Santa announces that there has been a huge shift in the Naughty and Nice Lists. Kids all over the world have started being naughty in droves! These two elves, Elwood and Nora, meet a little girl, Jessica, who is still on the nice list and endeavor to do what they can to make sure she stays there. While getting to know her and her family Elwood and Nora learn the real reason for Christmas and that what sets Jessica apart from so many of the children is her Christian beliefs.
Dove Review
This story is about a law which is passed that forbids parents and authority figures from disciplining children. When Santa shows concern that his naughty list is growing and his nice list shrinking, he sends two of his helpers to try to turn things around. The "naughty" problems of children become obvious and in one scene a group of kids enter a church and throw song books and show disrespect but when a boy accidentally breaks a leg a church worker is there to show him kindness and forgiveness. She explains that love is the motivation behind parents who make their children mind and do the right thing.
Some of the acting in this program is a bit lacking but there are others in this film, particularly some of the younger performers, who nail their scenes. The spirit of this program and its moral theme is exemplary and we are more than pleased to award our Dove Seal to this DVD for all ages as a family-friendly film.
Info
Company:
Ehrenkrook Entertainment
Producer:
Andrew and Maude von Ehrenkrook
Industry Rating:
Not Rated
Starring:
Joshua Roy; Monica Eder,
Savannah Howard
,
Dean Denton
,
Kera O' Bryon
,
Teddy G.J. Rail
,
Maggie Paul
,
Shawn Flannery
,
Amy Carlisle
,
Morgan Kennard
,
Jonathan Walthour
,
Joshua Johnson
,
Seth Kozak
Reviewer:
Edwin L. Carpenter