Johnny
DVD Release:
April 12, 2011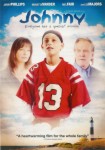 Synopsis
When Dr. Drew Carter tragically lost his ten-year-old son in a car accident while his wife was driving, he didn't expect to lose his whole family as well. Since the accident, his wife, Julia has become emotionally absent from Drew and their daughter, Kayla. When Dr. Miller refers Johnny, a foster Child with leukemia, to Drew, the wheels start to turn and Drew sees a chance to heal his family.
Because Julia remains in a perpetual guilt-ridden state of grief, she is opposed to the idea of adopting this terminally ill boy. With Kayla increasingly more rejected by her own mother and Drew more distant from his wife, he decides to take matters into his own hands and adopts Johnny for better or for worse. Johnny doesn't know what he is in for, but is convinced he is here for a special mission; a mission that is revealed when he enters Dr. Carter's world.
Dove Review
This is a faith-based story about one young boy named Johnny and the Carter family who need him to show them the way back after a tragedy devastates the family.
It is a sensitive story about loss and how one young boy's mission, before he is called to Heaven, makes a difference. Johnny gives the Carters and others around him a new look at their lives in addition to showing them what has been missing from their lives. This is a dramatic film that shows how God works mysteriously in people's lives through even the toughest of times. The story vividly displays how people sometimes forget how to forgive themselves and those around them, but the Lord forgives no matter what. It also portrays that sometimes when we lose our way due to events that happen in our lives, God sends help in a mysterious way that only He can understand. But it is always the right solution.
Johnny is a tool of God, sent to heal the broken hearts of a family who lost a son. This film will move your heart and soul with its message of redemption, salvation and forgiveness. We are proud to award "Johnny" the Dove "Family-Approved" 12+ Seal as there are sensitive issues in this film. It is a film that shines brightly with hope and it has great appeal for families. Every family should see this movie!
Info
Industry Rating:
Not Rated
Starring:
Jerry Phillips; Lee Majors; Mel Fair; Musetta Vander; Aubyn Cole
Reviewer:
Edwin L. Carpenter