Enchanted Tales: A Tale of Egypt
DVD Release:
June 10, 2010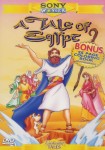 Synopsis
Heroic characters, memorable songs and thrilling deeds weave an unforgettable story of faith and courage amid the splendors of ancient Egypt! Plucked from the River Nile by the daughter of Egypt's Pharaoh, the young Israelite Moses grows up as the favored friend of the Pharaoh's royally spoiled son, Ramses II. But after witnessing the cruel treatment of the Israelites by their Egyptian overlords, Moses discovers his true identity and his exciting destiny: to lead his people out of slavery! Accompanied by his best friend and ally, the spirited little day Snefru, Moses commences an epic quest that will pit his faith in God against the power of the wicked new Pharaoh: Ramses! And in the process, guide his people into a thrilling escape where only a miracle can save them! With a story as timeless as it is inspiring, this wonderfully animated Tale of Egypt is an adventure your entire family will want to share again and again.
Dove Review
This is an animated biblical story of Moses. This colorful illustrated cartoon is filled with music to accompany the dramatic story that children have been told in Sunday school and Bible school for generations. No matter how this dramatic story is portrayed it will always display God's power and love.
This is great entertainment for the entire family and we are pleased to award this DVD our Dove Seal for all ages.
Info
Company:
The Garr Group, Inc
Industry Rating:
Not Rated