Nico the Unicorn
DVD Release:
September 7, 2010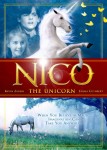 Synopsis
Since the day his dad died in a car accident, Billy's life has never been the same. Money is scarce, and the leg brace Billy must wear sets him apart for his peers. But all that changes for the better when Billy's pony gives birth to Nico, a unicorn. As Billy and his new friend Carolyn raise Nico into a beautiful stallion, they discover that magic is real, best friends are magical and that they can do anything they put their mind to.
Dove Review
Billy is made fun of by some of the kids in the new school because of his leg. But Carolyn decides that what her friends are doing to Billy is not right and becomes his friend. As they work together to help the pony that Billy rescues from a mean circus owner, they have no idea about the magical adventure that is about to happen.
A unicorn is a mystical fantasy animal like those made up in fairy tales. But when Nico takes Billy on a ride as they try to get away from the prying eyes of the public, Billy imagines the changes in his life that this beautiful animal will create. One must always remember that only someone who is pure of heart can own a unicorn. This is a charming family movie but due to some language content we award this DVD the Dove "Family-Approved" 12+ Seal for viewers 12 years old and older.
Info
Company:
Echo Bridge Home Entertainment