Message in a Cell phone
DVD Release:
June 1, 2010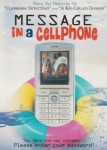 Synopsis
In the tradition of "Stand by Me" and "The Goonies", this movie features a trio of ingenious, creative and loyal boys. When Chase and his two friends find a lost cell phone and try to return it to its owner, they overhear what sounds like a murder. The boys must crack a voice-mail code before desperate men, who will stop at nothing to destroy the cell phone and whoever has possession of the message discover them. The three boys really show their abilities as the plot thickens with every twist and turn.
Dove Review
Three friends, each with a different personality, engage in detective work when a cell phone falls in their hands. A comical mystery investigation transpires as the boys try to discover the true secret held in the message of the cell phone and what happened to its owner. Once you get past the annoying cell phone constantly ringing, the movie is enjoyable and fun. It is a wholesome family movie that will entertain everyone.
We award the Dove "Family-Approved" Seal for all ages to this wonderful DVD.
Info
Company:
Timeless Media Group