Dos y Dos: Cosas Diferentes Temporada 1- Vol. 3
DVD Release:
June 1, 2010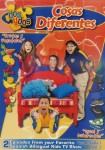 Synopsis
Dos y Dos is the world's only Latino live-action television series recorded in Spanish and English for preschool children ages 2 – 5. With an engaging cast, Dos y Dos incorporates music, dance and vibrant colors. The premise of every episode revolves around solving "the riddle of the day."
Combining singing and dancing, the characters Sofia, Fernando, Adriana and Andrés find five giant puzzle pieces, which solve the riddle, revealing the topic or theme of the show for that day.
"Dos y Dos – Cosas Diferentes" features the episodes "Fruits & Vegetables" and "Same & Different".
The songs in Cosas Diferentes are eating healthy, very odd vegetables, and learning about all the different things in our world.
Dove Review
This is a colorful show for your youngsters understand Spanish. In the world today many children are bilingual. Dos y Dos presents 2 episodes that contain wonderful toe tapping music and educational material that are aimed at the under five age group. The characters are fun and lively as they teach your children new things which are done completely in the Spanish language. It is an education show filled with fantastic fun. We award this DVD the Dove "Family-Approved" Seal for all ages.
Info
Company:
Latin Amer. Multimedia Corp
Industry Rating:
Not Rated
Starring:
Bayardo DeMurguia(Andres); Ritchie Valenzula(Fernando); Karla Bautista(Sophia); Blanca Buelna(Adriana); Joseph Dionisio(Foto Joe)